A New Grinder That Aims To Leave No Grind Residue Behind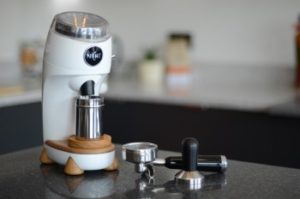 Newly made British designed grinder is coming to our markets with the aim to bring professional features to the consumer class. What makes this grinder special are hardened steel conical burrs 63 millimeters in diameter, the adjustment mechanism and the rotation speed of 330 RPM delivering fine grinds with the noise that is much quieter as opposed to all competitive grinders, according to dailycoffeenews.com.
The exterior shell is made of cast aluminum and will be produced only in white color for the beginning. The Niche Zero, which is only 31 centimeters tall, fit easily under home or office kitchen counters. A single-dose hopper allows beans to slip directly down into the burrs where, as the name itself implies, the grinder achieves zero retention, leaving nary a particle behind. The grinder's vertical grind path and a rotating sweeping mechanism are the reason for this minimal retention. While in all other grinders the residue stays in the machine, affecting every subsequent coffee since it will be mixed in with it, this unpleasant residue is not present in The Niche Zero Grinder's technology.
Niche designer and CEO – Martin Nicholson – told that the output rates of his grinder come to about 1.5 grams per second at espresso-range fineness, 1.8 at a Chemex-friendly medium grind and 2.1 in the coarse range.
The price of the grinder is planned to be £499 with discounts to be offered to early adopters via an upcoming Indiegogo campaign and the grinder is expected to begin shipping pre-orders in the next year throughout Europe and the United States.
Graduated in Philosophy, Sladjana has a master degree in English language and literature. She has worked as an English teacher in various schools in Vranje, as a translator, proof-reader and writer for "Profit magazine" which issues texts about economy, successful people, companies, and marketing. Since June 2017, she has been writing for CoffeeBI as a reporter from Europe.