Kona Coffee, Hawaii. The Champagne of Coffee
Hawaii is not only part of a fabulous archipelago in the Pacific, rich in flowers and sea life, but also rich in soil able to grow the coffee plants that produce one of the most expensive coffees in the world.
The most famous Hawaiian coffee is "Kona", cultivated on the slopes of Hualalai and Mauna Loa, in the North and South Kona Districts of the Big Island of Hawaii. Only coffee from the Kona Districts can be truly considered "Kona".
We have been there recently, and now we will describe our experience. We drove for a whole afternoon along the Mamalahoa Highway; stopping in little centres, meeting growers, and drinking coffee in local stores.
The "coffee belt" in Kona is approximately two miles wide and at 700 feet (210 m) to 2,000 feet (610 m) elevation. Other districts on the island where coffee is grown include Kaʻū in the far south, Puna in the southeast, and Hāmākua in the northeast.
The volcanic soil of Hawaii, porous and mineral-rich, creates favourable coffee growing conditions. But for the Kona district, another aspect is important: the weather. The high volcano nearby influences the climate. Sunny mornings alternate between cloudy afternoons, with short, sharp showers and little wind to mild nights.
This coffee plant is not native to the Hawaiian islands but was brought to the Kona district in 1828 by Samuel Reverend Ruggles, from Brazilian cuttings. It was only later, in the 19th century, when English merchant, Henry Nicholas Greenwell, moved to the area that Kona coffee was established and became a recognized brand.
Today, there are approximately 800 Kona coffee family farms, with an average size of less than 5 acres (20,000 m2). The development of the area is due to people coming from other places.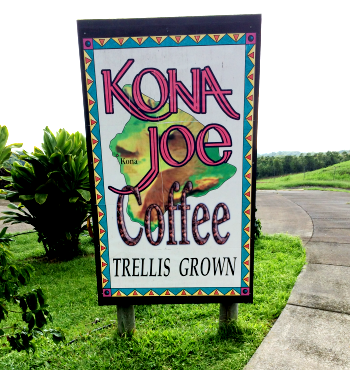 Growers are Americans, coming from the mainland, and Europeans as well as Filipinos and families of Japanese origin that invested in the area during the eighties and nineties. Among them, we would like tell you the story of a man named Joe Alban; an orthopaedic surgeon that in 1986 was on vacation on the Big Island of Hawaii. He fell in love with Deepa, a Hawaiian artist, whom he married in 1990.
After their wedding, Joe and Deepa thought about how they could build a life together; coming from two such different places and having different jobs. In 1994, Joe decided to leave his job and buy 24 acres of land on the slopes of Mauna Loa. The initial investment was of $50,000 and in 1997 they started to produce coffee; under the name of "Kona Joe Coffee". They had immediate success and it changed their lives.
Today "Kona Joe Coffee"  is one of the most well-known Kona quality brands; selling its products mainly to The USA but also sending exports worldwide. They have a farm and a coffee shop open to visitors on the hill of Mauna Loa, with a breath-taking view of the sea cost.
We have been there and have tried their coffees (middle roast, dark roast, aromatic with nuts). The quality was excellent. The cups of filtered coffees, a type of preparation appreciated on the Hawaiian Islands, have delectable tastes and flavour. 
Talking to our guide, we also asked if it was possible to try espresso with their roasts. At our "special" request, he told us that Kona Joe has a special blend for espresso, and proudly drove us to their bar that had an "Italian" coffee machine. He explained that to make a good espresso with their coffee, it needs a mix of middle and dark roasts to balance the flavour, intensity and texture. We tried it and the result could only be described as "wow".
The high quality of Kona Coffee, he explained, is not only because of the soil, but is also due to their artisanal work and the attention and care given to every bean. Because of the rarity and price of Kona coffee, some retailers sell "Kona Blends". These are not a combination of different Kona coffees, but rather a blend of Kona and Colombian, Brazilian, or other foreign coffees. Usually they contain only the minimum requirement of 10% Kona coffee with 90% cheaper imported beans.
To be considered authentic Kona coffee the state of Hawaii's labelling laws require the prominent display of the words "100% Kona Coffee".
The price of Kona Coffee at retail is around $1.5/$1.9 per ounce (28.35 grams) but can be higher for precious blends. Average packages include 8 ounces (227 gr.).
For a package of Kona Joe Coffee of 8 ounces, we paid almost $18 but it was "Espresso Roast, 100% Kona Coffee". The price was higher than average but it was worth it for the quality: it is like drinking a cup of champagne of coffee.
To not dismiss the other farms that offer coffee tours and offer their own quality coffee; we remember some of them through the Kona Coffee Farmers Association (KCFA):  Ah, don't forget that the word for coffee in the Hawaiian language is "kope", pronounced [ˈkope].
About 20 years of experience in competitive market analysis, data surveys, worldwide markets, and significant experience in the study of the coffee industry, especially in B2B, HORECA and professional markets.
In charge of selecting the appropriate research methodology and supporting techniques to meet customers' business objectives, with specific expertise in research plans and questionnaires.
Consultant in interpreting data, writing reports, and making actionable recommendations.
For Mariano, coffee is not only a job but also a passion.
Interesting content? Share it with your colleagues