A Robot Barista Debuted in Tokyo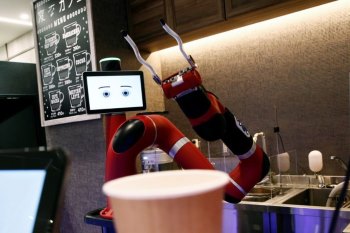 In Tokyo's Shibuya district, a robot barista makes a coffee at Henn-na Cafe. As reported by newsobserver.com, to order a coffee, the customer must buy a ticket at a vending machine. The price of a cup of coffee is ¥ 320 ($ 3).
The robot welcomes the customer through an attached screen that shows facial expressions and asks if you want a delicious coffee and then it processes the order by scanning the QR code on the ticket.
The robot was created in the United States, and consists of an automatic arm that can rotate on itself in order to optimally exploit the surrounding space and optimize the preparation stages of the coffee, through a system of sensors that allow the robot to interact with the surrounding machines, as seen from the video in the main source japantimes.co.jp
The robot can perform the processing steps of filtered coffee preparation in between 3 to 4 minutes from the moment in which  the cup of coffee is being prepared to the moment in which it is served to the customer, and it is also able to discard the coffee beans and clean the filters.
An official representative from H.I.S stated that they are using artificial intelligence to make the robot learn more fluid movements. The use of robots is an example of how this rapidly aging country is seeking to adapt to a shrinking workforce.
Masataka Tamaki, general manager of corporate planning at H.I.S. said that the essential point is to increase productivity,  because only one person needs to oversee the robot cafe, compared to several people needed at a regular coffee shop. Using this robot  it's possible to  serve better quality coffee at a reasonable price. Tamaki also says that the aim is for the robot is to entertain customers so it's a different experience in respect to buying coffee at a vending machine. In fact the robot has attracted customers, many of them young men, who took photos with their smartphones while they waited in line, as reported by newsobserver.com.
Interesting content? Share it with your colleagues