5 Reasons why you should invest in barista training
This is what you're wondering: "Why should I invest in my barista? They are probably going to leave me soon anyway!"
You have had some good baristas, but they always seem to just come and go. And you don't understand why. Your cafe is certainly no worse than your competitors, you have high standards when hiring and even your offers are good. How come you are unable to keep a good barista?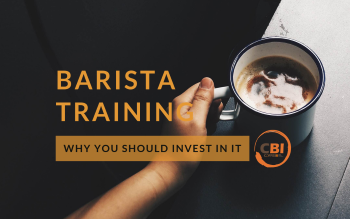 So, when people say, "invest in your barista". You'd say, "they are going to leave soon anyway so I don't really see the point".
If you don't invest in your barista, this will be a never-ending cycle. As a cafe owner or a cafe manager, you should understand that your greatest asset is your team of baristas. Train them well and make them the best baristas they can be. Invest in them and your business will be rewarded accordingly.
Now, let me give you 5 good reasons why you should invest in barista training.
1. Better Coffee Quality
A no-brainer question: What do you sell in cafes? Coffee. Another no-brainer question: Who makes the coffee that you sell? My barista. Unless you are the kind of owner who pulls every single shot behind the bar, you need to rely on your barista. And I am sure your aim is to serve the best quality coffee in order to win customers.
Because you are in your barista's hands when it comes to making the coffee, you need to train them to serve the best coffee they can in accordance with the standards you have set. Once you have given them proper training, you have then set the standard. And you can also follow their progress and improvements. This will be reflected in the coffee you serve and will eventually be reflected in your sales reports.
I promise you that once you start investing in barista training, your customers will notice an improvement in the quality of your coffee.
2. A Better Customer Experience
Do you know what's more important than the actual cup of coffee? Most of the time, customer satisfaction depends on how well the barista performs.
A professionally trained barista does not only make good coffee, but also serves with confidence and interacts well with customers.
A well-trained barista is able to share information and knowledge about the coffee products with your customers. This extra bit of coffee education is usually a significant booster when it comes to customer experience. And this is one of the most likely reasons why your customers will want to come back more often!
3. Having a strong Barista Team
Barista Training is not about nurturing one world champ barista. It is all about having a solid and strong barista team, which grows and becomes better TOGETHER. Your barista team is the foundation of your frontier. We do not want an individual barista making better coffee than the others. We want a team of people who work best when they are together.
A regular barista training schedule will definitely create just such an atmosphere. The barista team who are trained together will encourage each other to learn new knowledge and skills. They might also brainstorm together about more creative coffee ideas!
4. Minimize Turnover
As we have discussed earlier, baristas always come and go in your business. This seems to be one of the highest turnover rate industries and everyone seems to have to compromise.
What if I tell you barista training can change all this? Sounds unbelievable, right? Trust me, I was a barista. We are amongst the most passionate weirdos in the world. I witnessed a lot of baristas who gave up promising salaries or offers just for the sake of sharpening their barista skills.
If you have an on-going training programme and schedule, you will be surprised at how long your baristas stay with you.
5. Better Brand Reputation
As I always say, brand identity and reputation are built on people. Two baristas are in front of you:
A. Energetic, confident and competent, or:
B. Bored, unfocussed and dull
Which one would you want to represent your brand? Another no-brainer, right? How can you get the energetic and confident barista to represent your brand? Invest in them and train them. Through a barista training programme, you can re-shape a barista to become the right person to fit your brand.
Apart from the consumer's perspective, having a barista training programme can enhance your brand reputation as an employer. It shows that you care about your staff and are willing to invest in your barista's professional growth. This will ensure that more good baristas want to join your team!
Next?
If I had to, I could make a much longer list as to why you should invest in barista training. But I don't want to overwhelm you. I know you are still skeptical about what a powerful contribution barista training can be for your business.
As a former barista and a barista trainer, I might be exaggerating but I believe barista training can save your business! Why don't you give it a try? Now, I can almost hear your next question: "So, how should I start training my baristas?'
Make your coffee shop smarter with the first loyalty card with automatic tools: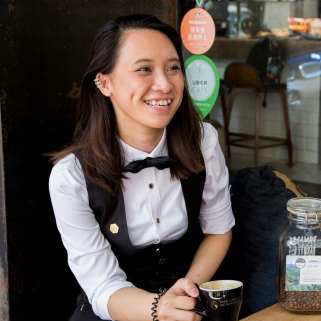 Vanessa is a Barista Trainer and Cafe Consultant, specialised in coffee training and water-coffee relations. She is the founder and blogger of Forbidden (www.forbiddenbean.com). Recently, she becomes a tea sommelier in order to bring some new insights from tea to coffee.