Indian Coffee Production: An Overview of Five Decades of Transformation
India is one of the largest producers of coffee in the world, representing about 3.5% percent of world coffee production (about 6 million of 60kg bags).
Favorable topography and climatic conditions have enabled the growth of coffee beans in the Southern and North-east regions of the country.
Coffee: an inevitable part of Indian culture
India has been a major producer of coffee since ancient times. Historical facts suggest that an Indian hermit named Baba Budan brought seven beans of coffee from Yemen and planted them in Chandragiri, a hilly region located in the Indian state of Karnataka.
From then on, until today coffee has become a part and parcel of Indian culture.
Over a 50-year period, coffee has made significant contribution to the Indian economy among other plantation crops. Currently, there are over 52,000 coffee gardens generating employment opportunities to 2.5 million persons.
Robusta Canephora is the most planted variety
The Indian coffee acreage stands at about 350,000 hectares, split up in north and south. Second only to tea, this plantation crop is the most sought-after commodity in India.
Indian Robusta is profoundly favoured for its superb mixing quality. It has a widespread demand across domestic and international borders.
Coffee Arabica and Coffee Robusta account for 30 per cent and 70 per cent of area respectively under coffee
In India, coffee is traditionally grown in the Western Ghats spread over Karnataka, Kerala and Tamil Nadu, wherein Karnataka is the largest producer accounting for about 70 per cent of the total coffee production.
Kerala is the second largest producer of coffee but lags far behind, accounting only for about 23per cent of the total production of the country. Tamil Nadu is the third largest producer where India's 6 per cent of the coffee is produced. About half of Tamil Nadu's coffee is produced in the Nilgiri district and is a major Arabica growing region.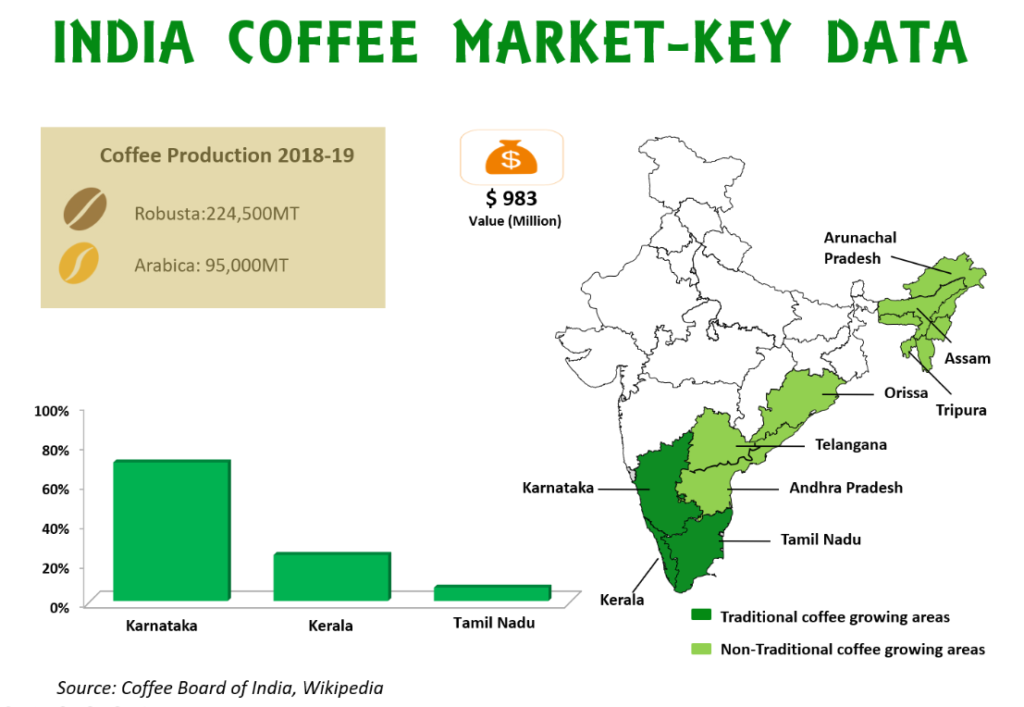 It is estimated that there are nearly 250,000 coffee farmers in India, 98% are smallholders.
In lieu of Union Budget 2020, the basic import duty on tea and coffee makers apart from other home appliances has been increased from 10% to 20%. This move is part of 'Make in India' initiative to promote local manufacturing practices.
Additionally, in accordance with the national policy of tribal development, coffee cultivation is being encouraged in non-traditional areas such as Andhra Pradesh, Orissa, Maharashtra, the north-eastern states and Andaman and Nicobar Islands.
The wide-spread demand for Indian coffee in Continental Europe
The bulk of India's coffee production is exported, and the domestic industry focuses much of its marketing effort on export promotion.
Of the total coffee produced in India, about 75 per cent is exported and 25 per cent is consumed domestically.
Find out what are best coffee producers in the world.
Italy is one of the largest importers of Indian coffee at 21.63%, which is followed by Germany (9%), Russian Federation 6.3% and Belgium (5.24%).
Coffee exports are expanding fundamentally on account of government initiatives. In line with the Government of Japan's assurance to purchase all the coffee produced in the State, Manipur, which is one of the 'Seven Sister States of India' is set to embrace mass-scale coffee production at Chandel, Litan and Nongmaiching Hills; areas that were once regarded unsuitable for coffee production.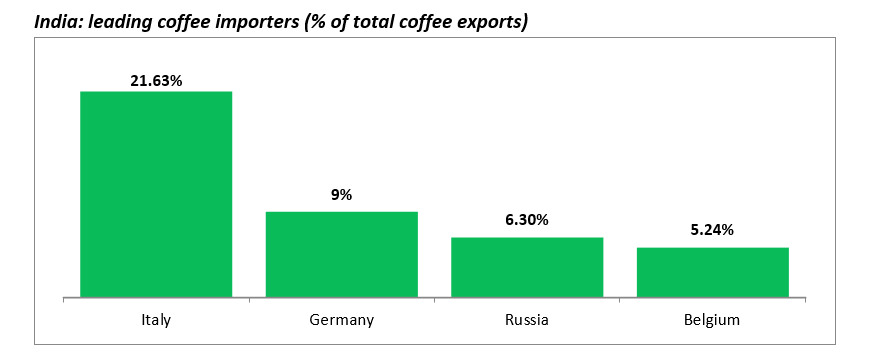 However, despite a marginal increase in overall volumes, India's coffee shipments in 2019 fell 5 per cent in value due to lower prices, torrential rains and flooding.
According to Coffee Board statistics, the dollar value of shipments declined to $794.21 million during 2019, lower than $836.14 million. Also, the exports were marginally lower in domestic currency at Rs 5583.64 crore, as against Rs 5661.37 crore. According to The Hindu newspaper, India's Arabica production has hit an all-time low this coffee-picking season due to the torrential rains that hit the Southern States of Kerala, Karnataka and Tamil Nadu.
India is home to a leading coffee roaster
Tata coffee, owned by Tata Global Beverages is the one of the key market players in the coffee sector. The company which is a subsidiary of Tata Group owns 19 coffee estates in South India and is one of the largest coffee plantation companies in Asia.
Tata coffee's partnership with Starbucks and acquisition of Eight O'clock Coffee in the US has paved way for the growth of Indian coffee internationally.
Upcoming International Coffee Events in India
The 5th World Coffee Conference and 127th Session of the International Coffee Council, a three-day event themed 'Sustainability Through Consumption' which is going to be held at the Bangalore Palace in September is to look forward to. The participants will include key market players, coffee connoisseurs and industry experts from world of coffee.
All things considered, sustainability and innovation will be the key drivers of growth in the Indian coffee industry.
Find the most interesting coffee events around the world.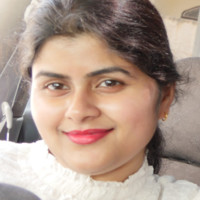 Market Researcher with more than 8 years of strategic research experience across different industry sectors ranging from Beverages to Lighting products in both Asia and Middle East-North Africa(MENA) regions.