Russian Coffee Trade amid Pandemic Times
Although Russia is among the largest coffee importing countries in Europe, the demand for Arabica has been growing steadily mainly due to the development of the Russian coffee industry as well as the reduction of import duties on green coffee imports after Russia joined the World Trade Organization in 2012.
Imports of the Robusta variety are significantly higher than Arabica. However, according to reports, the imports of the latter grew at a high rate of 12% Y-O-Y compared to Robusta which was only 5% in the same period.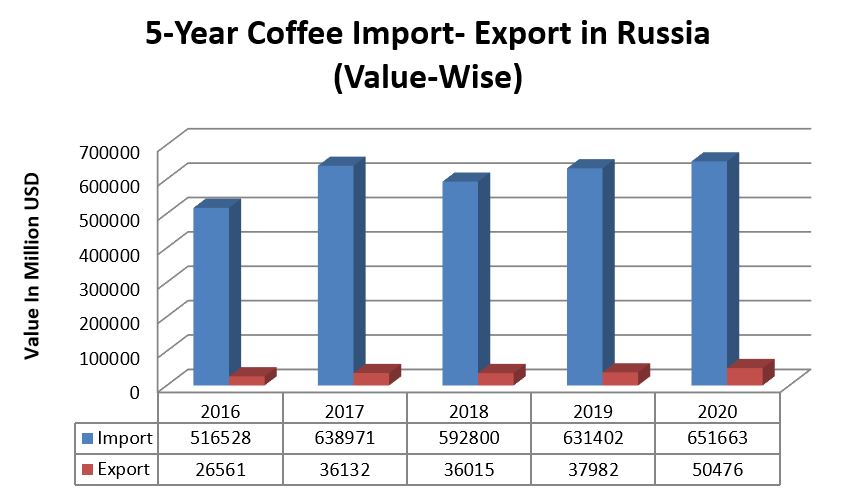 Imports outperform exports
Out of the total imports of 230,955 tons in FY2020, which was a 6 per cent rise as compared to a year-ago, Vietnam's share was the highest at 35 per cent followed by Brazil (26%), Indonesia (8%), Italy (7%) and Colombia (3%). Similarly, the total value of coffee imports in the same year stood at 651,663 USD Million.
Russia exports only a minor portion of its coffee imports. The top five export destinations in 2020 were Belarus, Kazakhstan, Ukraine, Georgia and Moldova. The total volumes of coffee exports were 11,948 tons in 2020 reaching a value of 50,476 USD Million.
Low per capita consumption does not mean low imports
Russia predominantly is a tea-drinking nation but is slowly shifting to coffee, which is evident from its per capita consumption. According to ICO statistics, Russian coffee consumption has been increasing at a CAGR of 2.7% from 2018-2021, which is indicative of the country's preference for coffee-based drinks. In 2018, Russia's per capita coffee intake was 1.8 kilograms, which is low as compared to the European average of about 5.1 kilograms per year. Russia, on the other hand, has experienced rapid inflation, with per capita consumption more than doubling since 2009. In 2018, it was reported that 73 per cent of Russians drank coffee.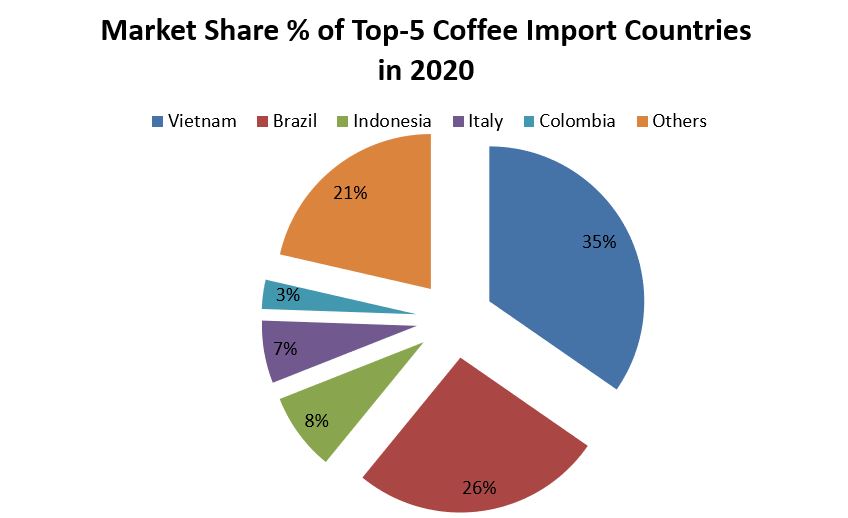 In 2018, instant coffee was by far the most common form of coffee in Russia, accounting for 66% of total coffee sales. Despite this high percentage, most Russian coffee drinkers believe that roast and ground coffee has a better taste than instant coffee.
As a result, in-home consumption of roasted and ground coffee rose at a faster rate than instant coffee in 2018, with 12 per cent for roasted coffee and 8% for ground coffee. Nevertheless, the coffee shop market in Russia is dominated by coffee chains, with Moscow and St. Petersburg accounting for 70% of the overall market.
Although the Covid-19 pandemic led to a temporary shutdown of many well-known coffee chains in the region, yet coffee imports have been on the rise during the marketing year 2020.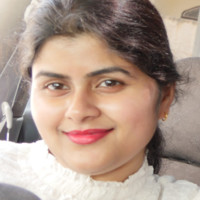 Market Researcher with more than 8 years of strategic research experience across different industry sectors ranging from Beverages to Lighting products in both Asia and Middle East-North Africa(MENA) regions.