Aftermath of the pandemic on the Irish coffeescape
While the vaccines have been rolled out and about a growing majority of people across the globe being vaccinated, it might be safe to say that the pandemic is towards the end, provided no other vaccine-resistant variant comes along.
The first half of 2020 was indeed painful to the hospitality sector worldwide, with the latter half showing promising signs of partial, if not complete, recovery. We're nearing the end of 2021 and until now, there has been quite a transition from restaurants and cafes offering dine-ins and occasional takeaways to being more of mobile and flexible units. Some of them were closed owing to the disastrous economic turnaround, while those who have managed to survive have had to make changes to their business models.

Coffee has always been a very vital drink for the irish people. When the pandemic struck, forced remote or hybrid working translated into an unlimited supply of coffee for millions around the globe as a stimulant. While cafes have always remained a much preferred place for socialising and also for the 'cafe experience', quaratining or staying home meant enjoying this cafe experience at home.
As an Irish Times article states, 'coffee became one of the very few discretionary impulse items that's still available to buy'.
In terms of instant coffee, it was reported that Tesco saw its customers purchase a greater number of coffee pods, an increase by 45% from the previous year. While the pandemic saw many niche or artisan coffee shops closing owing to the small-scale nature of their businesses in Ireland, it also saw the rise in the number of mobile coffee vans. The shutdown was inevitable for a lot of stores as the periods from March-early June 2020, mid-October to early-December, followed by January-April proved to be very difficult for businesses without an online exposure to survive, let alone making profits, as the country was in its strictest level of lockdown.
Those that managed to survive, made changes to their menus, by getting in novelties such as the puppicinos for dogs or babyccinos for babies who seemed to be the perfect walk companions. Spring saw a re-introduction of the flavoured and much-favoured lattes. The concept of takeaway coffees seemed to blossom, even with full-covid protocols such as social distancing, no seat-ins, mandatory use of the facemasks and at times not venturing beyond 5kms from respective homes being in place.
While this is at the forefront of the coffee industry, the ones behind the picture have incurred massive losses. Roasters, for instance, state that a lot of farmers couldn't yield great varieties of coffee crops. Farmers abroad, on the other hand, seem to be underpaid for their cultivation owing to the immense losses that everyone in the coffee chain faced.
In terms of major coffee chains, Insomnia has reported to have faced a major loss in its revenue-maximising efforts, after having seen brighter days in 2019.
An overall increase in coffee consumption also saw an increase in the litter of PPE and the coffee cups that have been disposed of in precarious ways.
With June 2021 proving to be the messiah for the hospitality sector, great coffee accompanied by a scenic location and a chance to safely socialise seemed to have been playing the catalyst behind driving the revenue. Study states that despite the restrictions, the Irish population hasn't lost their taste for caffeine and find a cup of coffee to get them 'through the day'. The pandemic has, more or less, seen the rise of mobile coffee vans, sale of coffee machines and the necessary gear such as ground coffee, coffee beans and pods, still rendering the caffeine business a hit. To talk in percentages, an article published in The Irish Times a couple of weeks back reports Velo Coffee Roasters to mark a 40% growth, now partnering with supermarkets such as Tesco.
The Irish government ultimately eased the restrictions by letting fully-vaccinated people dine indoors, a relief to many as Irish winters aren't too friendly. Only time will tell when we will be able to enjoy that cuppa by sitting within the four walls of the cafe sans restrictions.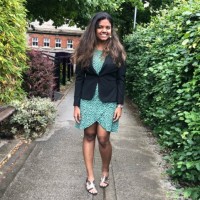 With a background in economic and international business management alongside experience in content creation and digital marketing, Alpona has a huge aficionado for coffee which only seems to be growing with every passing day. This is displayed through her food blog. If passion is combined with work, no amalgamation is more beautiful is what she believes in.