Specialty coffee in Belarus: SCAE Opening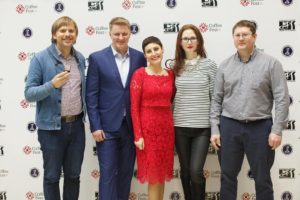 MINSK – 2016 is the starting year for the SCAE Chapter in Belarus and the presentation of the new branch took place on February 18. The SCAE Belarus team presented the association and told the guests (representatives of Belorussian coffee industry and mass media) about its goals and mission, as well as advantages of the membership in one the most prestigious coffee communities in the world.
The SCAE representatives from Russia and Lithuania visited the event: Alexander Tsibaev, National Coordinator, SCAE Russia, and Vytas Kratulis, First National Coordinator, SCAE Lithiania.
At the moment, SCAE Belarus has 28 members including coffee shops, suppliers, roasters, a barista academy, and, of course, baristas.
The main news of the event was Minsk Coffee Fest 2016 taking place on April 16-17. The program of the fest is going to be busy: lots of workshops and three championships. The most expected one is the first Belarus Barista Championship. The winner of this championship will represent Belarus in Dublin, Ireland, in the world competition.
Would you like to analyse any specific topic? Reserve a Premium Insight about the Specialty coffee or about the East Europe Market: contact us.