How to be Found Online with your Coffee Business (Part 3)
Do you think setting up a website and/or Social Media accounts on Facebook, Instagram or Twitter is enough to being found by your customers?
Sure, if your customers already know what and who (your brand name) they are looking for, it should be easy for them to find you. But, given the fact, they don't know you, yet, how can you manage to be found, when your (potential) customers are looking for coffee businesses, such as cafes, coffee shops or roasteries nearby or an online shop for their next coffee purchase or even coffee courses?
I'm sure, you've heard of SEO (search engine optimization), Google My Business, review pages and such, before! This  article is focusing on these tools that can support you with making your coffee brand visible for your customers online.
Search engine optimization (SEO)
Before you start using SEO for you, make sure, you create great content on your website for your customers, be it on your 'about' page, your offer, your news page or your blog.
Think about certain key words that work for your coffee business, such as 'coffee shops for families in xyz' or 'barista courses in xyz', etc. It helps to use these throughout your content in order for being found by potential customers. Make sure the URLs you're using include some of the keywords, too. Especially the ones for your blog articles, the pages for your coffee courses or your products. The thing is, Google is a text or copy based search engine, it will always search for text. This means, if you're using a lot of videos or photos/images on your website, make sure to have a description added there.
When you have an online shop and not only use your own products, coffee packages, merchandising, etc., but get it from larger suppliers, rewrite the product descriptions with your own words. Other shops won't do that.
Whenever you create a subpage for your website, have a Meta description using the keywords for your coffee business, prepared, as well. But, don't just make it a loose list of those key words, but actual descriptions of that very page. Try to write a description that is between 100 and 150 words. Keep also an eye on the little snippets that are written below each page title and URL when searching for a certain key word, company or website on Google.

Google My Business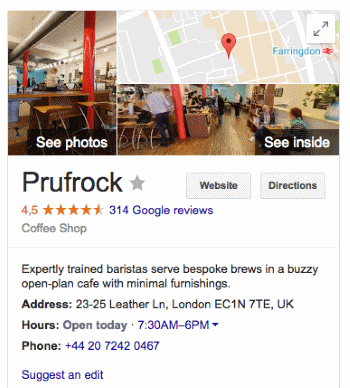 How can you manage to being found by potential customers, especially, if you have a brick & mortar coffee shop or roastery, and help them connect with your coffee brand at the same time? By using Google My Business.
If you've created a great Meta description for each page, Google will fill the snippet with what you've created there.
The longer the description, the longer the snippet below the page title. The better the snippet, the better you can be found by your customers, because it influences the click rate in the search results on Google.
By creating an account on Google My Business, you can not only add all the contact and business details of your coffee business, like address, phone numbers, your website, but also opening hours, popular times, links to your website, photos, reviews and photos as well as a Google map entry and directions. It's a great way to help your potential customers get to know you and what your coffee business is all about. Setting up an entry like the one above is free of charge. If you want to help your business showing up to e.g. a locally targeted audience, you can head to Google's Ad Word program for paid advertisement.
Review pages, like TripAdvisor, Yelp and Co.
A great way to help potential customers to decide for your coffee brand or head to your cafe or coffee shop is to get reviews from your customers. There are multiple pages or rating sites that offer posting reviews by customers, such as TripAdvisor, Yelp or Foursquare. All of these pages work the same way; you can list your cafe or coffee shop with your contact details as well as opening hours, some photos and a description. What's the advantage of putting your info out there on these pages?
Well, if a potential customer is looking for you or your services/your offer on the internet, he or she can not only find more pages with information about you in his/her search results, but also a lot of valuable opinions and reviews from your current customers. As you already know, recommendations are the best way to help people make the connection to a brand and to decide for a certain business. If you can manage to offer great service and great products, you definitely can get great reviews on TripAdvisor, Yelp and Foursquare as well.
A wonderful way to get reviews from your customers is also your Facebook page. Ask your customers to rate their visit or purchase on your Facebook page, too and help others to decide for your coffee business through Social Media as well.
Coffee Places Apps
There are a couple of Apps out there that help customers find the best coffee places near them. And more apps that are updated more frequently, since there are so many new coffee places opening almost every week everywhere around the world!
Where are my app developers?
We all are using our smartphones and Google Maps or other Map apps to make our way through either our own city or neighborhood or when traveling. In my opinion it would add so much value to visiting a city, especially, when you're looking for great coffee to drink or buy, if you could use a great coffee places app to find your next cup of Joe while cafe hopping…
When setting up the website for your coffee business, don't just focus on making the website experience a good one for potential customers, but help them connect with your coffee brand by being present, when they're searching for you online, be it either by your entry on Google My Business or reading reviews on rating platforms.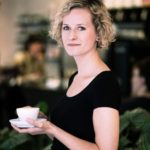 Simel.Coffee stands for the merging of specialty coffee and Marketing. The person behind Simel.Coffee is Melanie Boehme, Coffee Marketing Consultant and branding expert for specialty coffee shop businesses.
Melanie Boehme supports busy coffee shop owners and managers with her inspiring Marketing strategies (offline & online) on their way to a successful & thriving coffee business that customers just love going to.
Interesting content? Share it with your colleagues