Droughts to cut Uganda's coffee export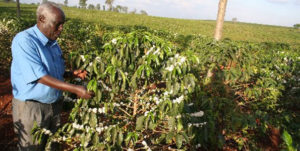 Droughts in Uganda may cut down expected coffee exports, a farmers' group has declared. There is going to be an expected 5% reduction due to droughts, the industry regulator. This is due to extensive droughts that hit the southern and south-western regions of Uganda two months ago. This has strained crop yield. Expected export will drop to 3.6 million 60-kilogram bags as against the 3.8 million-bag target given last year by the Uganda Coffee Development Authority.
The price of Robusta coffee is at its highest for many years now. Rubusta made up about 80 percent of coffee produced in Uganda last year. "We are assessing the impact of the drought on the crop," David Muwonge explained to Bloomberg. "Exports will be lower than the original target", he continued. David Muwonge is deputy executive director of the Kampala-based National Union of Coffee Agribusinesses and Farm Enterprises.
In spite of this, exports are expected to be higher than the regulators projections for last season (3.46 million-bag). Uganda consumes 3 percent of its yearly production. There was a carry-forward of 400,000 – 500,000 bags to the next season, statistics from the authority show. The carry-forward is expected to be lower because of the reduction in yields due to the droughts.
Last month, projection from the authority showed a total shipment from October through May of 2.28 million bags. Last year's was 2.11 million bags, hence an increase. This is a big blow to Uganda's coffee industry that recently received a ban from Russia on a range of vegetables, fruit & flowers (See Article). Uganda exports approximately 2600 tons of coffee to Russia yearly.
I am a blogger and an experienced freelance digital content writer with focus on small business, finance, agribusiness and tax law.
Interesting content? Share it with your colleagues