Russian Market Dominated by Instant Coffee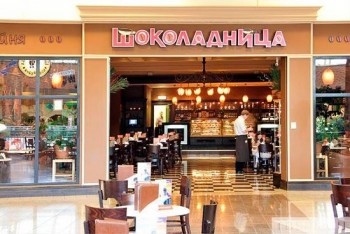 MOSCOW – According to International Coffee Council report, Russia is now the eighth largest coffee consumer worldwide, and one of the largest markets for soluble coffee.
In 2014, Russia imported 4.7 million 60kg bags of coffee, of which just over 700,000 were then re-exported to neighbouring countries. The market in Russia is dominated by instant coffee, plus Russia is still a traditionally tea-consuming nation (tea holds two thirds of the hot drinks market). Nevertheless, the expansion of international coffee chains, along with some domestic outlets, is driving new demand for fresh coffee.
Coffee consumption in Russia reached just over 4 million bags in 2014. With a population of around 143 million people, this gives Russia a per capita consumption of 1.7kg, equivalent to around 120 cups of coffee per person per year.
According to Euromonitor, fresh coffee accounted for 39% of coffee retail sales by volume in 2014, up from 31% in 2009. Fresh coffee is now the main driver behind further growth in coffee consumption in Russia.
Analysing only the professional market, Dataresearch points out a strong increase in the HoReCa segment that represents 10% of the total coffee consumption in the country.
Although coffee has been increasing in popularity in Russia over the last two decades, the potential for further growth seems somewhat limited. The main drivers of demand are innovations such as single-serve machines and higher quality roasted coffee. However, these trends are generally dependent on having a pool of relatively affluent consumers with disposable income, which is subject to continued economic growth. Coffee consumption, particularly in emerging markets such as Russia, is affected by economic growth, which in Russia is heavily dependent on oil prices.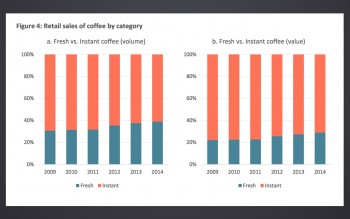 But what coffee is preferred in Russia? Another survey conducted by Moscow bonus program provider Malina (interviewed citizens of Moscow between 18 and 65) showed that the consumption of coffee and coffee beverages in 2015 grew by 28% in comparison to 2014. The most popular coffee beverage among Moscovites is cappuccino (chosen by 37% of respondents). The second popular drink is americano preferred by 24% of respondents. 22% of participants would choose latte being the third popular drink. Every fifth citizen of Moscow buys coffee, and among 1000 people driving to a gas station 39 would buy coffee-to-go. In 2015 coffee became three times more popular than tea, 73% of people would prefer coffee.
Still, one should keep in mind that coffee drinkers live mostly in cities, and 2/3 of coffee consumption in Russia is covered by two largest cities – Moscow and St. Petersburg.
Would you like to analyse any specific topic? Reserve a Premium Insight about the Russian market: contact us.
Interesting content? Share it with your colleagues