Southern Europe, Coffee Is A Slowly Moment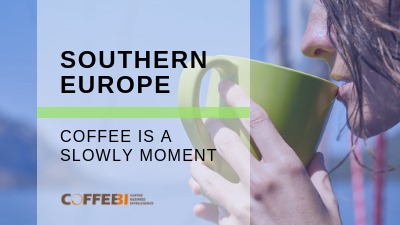 As  one of the greatest differences within the European culture is the approach to coffee: in the northern lands of Sweden, Finland and most Germanic countries, coffee is often consumed during long breaks, sitting down calmly and consumed alongside a pastry or an otherwise small snack, such as in the Swedish Fika ritual.
In the sunnier side of the continent, the approach to coffee consumption varies greatly depending on the country, although plenty similarities are shared within the southerners.
Italians
One of the countries  which  have had the biggest influence on modern southern European coffee culture is Italy, with  a surprising  number of rules regarding the energizing drink, which may sound weird to foreigners.
According to The Telegraph, Italians only accompany their morning Joe with milk for breakfast, that is if they don't prefer the simple espresso shot before work, which is not meant to be  drunk all at once, but sipped slowly. In Italy it is hard to find someone  who will ask for a very complicated order, as Italian coffee is traditionally very simple and intended to be drunk in small doses, but multiple times throughout the day. Italians prefer to keep their coffee their way, in fact there is only one majorly known coffee chain shop, a single Starbucks, which has opened fairly recently in the heart of Milan.
Keeping all this in mind, up to 76% of Italian teenagers do consume caffeine, as seen in this article by the  Repubblica, and many of them go over the daily recommended dose. Ironically, as adults, Italians are very much used to three to four espresso shots per day, on average. Another curious note is how they like it: Italian men prefer plain espressos, while women have a tendency to prefer adding milk to their cup, according to this article by the Italian news TgCom24.
Spaniards
Spain, with little recognition in the coffee scene, has a very different take on the drink, which is mostly consumed during the afternoon, during the Merienda, or at the end of the work day and is mostly drunk as an espresso shot, called Solo, or with milk, a Cortado, or yet again with whipped cream on top, called Sucio. Spain hosts both the American Starbucks chain and the British Costa Coffee, although while popular, their small bars are preferred rather than bigger chains. One unique r coffee drink  called Carajillo, which comes from the word Courage, is served by pouring a shot of rum at the bottom of the glass and then burning off the alcohol with a torch, then the hot coffee is poured on top and sometimes topped with whipped cream.
Spaniards prefer to have long chats while sitting down and enjoying their afternoon or after work break, as a survey from El Paìs affirms, they may love it so much that they'd rather hang out in a café, rather than engaging in other social activities. There are quite a few Starbucks here, about 90 in  the whole nation, according to Starbucks' website, but they  the local coffee houses outnumber them.
Spaniards have a very easygoing approach when it comes to their coffee, as the article from Reustauraciòn News shows, up to 78% of young adults from 18 to 24 years drink it daily, and the percentage goes higher as they age up to 55 years. In fact, the article tells us that up to 93% of people aged 54 are daily drinkers, while people over that age who drink coffee on the daily are 89%.
Portuguese
Portugal borrows quite a bit of its coffee culture from   neighbouring Spain and it's said to have one of the highest coffee houses densities in southern Europe, with one for every 250 citizens. However, it's not the world-famous Starbucks, but rather Delta Cafè and Nicola's.
Portugal is famous for the Galaro and the Bica; the first one being a  one part espresso coffee to  three parts of steamed milk, poured on top of the coffee, very much resembling a latte. Bica, on the other hand, is very similar to the standard espresso, but earthier and sweeter. You're very likely to be hearing Bica a lot in Lisboa rather than in other regions, as it is a local dialect and refers to a specific type of coffee.
Portuguese people are very similar to Italians: they drink little coffee at a time, but multiple times during the day. It's not uncommon to hear about someone drinking from eight to ten Bicas per day.
Portugal holds its coffee shops in high regard, after all, it should be noted that it is the home to the Cafè Majestic, which has been listed in the Top 10 Most Beautiful Cafès in the world.
Greeks
Finally, Greece has inherited quite the technique from its old friend Turkey, in fact, the brewing technique is very much alike, having initially originated  from Yemen, then spreading all the way through the Ottoman Empire and lastly Greece.
This technique has been refined through time and is today considered to make the healthiest coffee in the world, according to the respective article from Greek City Times.
The article states that:
"Greek coffee is the richest in polyphenols, which helps to clean the arteries, thus reducing the risk of heart disease."
The Greeks observed in this study also drank three to four cups on a daily basis and compared to what was observed, it was only this kind of coffee that offered the reported benefits. This coffee is brewed in a special pot called "briki pot" and poured in with the grounds at the bottom; these grounds are popularly used for fortune telling. It is meant to be  drunk slowly and accompanied with snacks.
The real Greek coffee break is meant to last a long time and to be enjoyed at one's own pace, preferably with friends, and akin to the Spaniards, spending an afternoon in a cafè is actually more common for Greek youths than other social activities.
This can also be observed in Larissa, the so-called "Greek Capital of Coffee". An extract from the Greek City Times reads:
"According to the Chamber of Commerce in Larissa, there is a total of 16,308  registered companies in the city and 1,600 of which sell coffee, showing that 10% of local  businesses are coffee-related!"
Of course, recently, there has been a new hit in the Greek Coffee Houses market: the modern and dynamic Rabbit Punch, which aims to embrace both the world of coffee-making and the art of alcoholic drink mixing, alongside their offer of healthy afternoon brunches.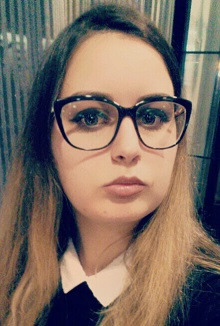 Arianna is a student at the Universtity of Macerata's Humanistics Department.  In 2018, She passed the Cambridge IELTS exam, passing with a Band 8 score. She took her first baby steps in the world of article writing, tourism advertisement and translation.