Coffee, The Scandinavian National Drink
Despite originating from warmer countries and having grown popular in Southern Europe, coffee has become so popular in Northern Europe that most Scandinaviancountries consider it their national drink.
According to statistics, the average number of coffee cups consumed by Finnish people was 12, and the Finns are considered the most enthusiastic coffee drinkers, with a consumption rate of over 10 kg per person.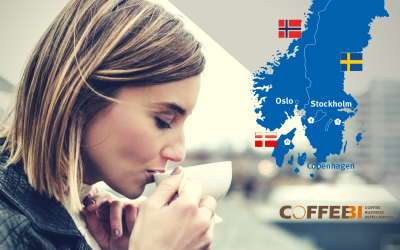 In Sweden, over half of the population drinks coffee with their breakfast, as well as during the day, to mark the spending of a day in the office with several social moments with colleagues accompanied by a warm cup.
In Norway and Denmark, the usage of a drip coffee maker is popular, to make a brewed or filtered drink, which in Sweden is often teamed up with the ubiquitous local cinnamon bun or a piece of chocolate.
Green coffee is imported mainly from Brazil and other South American countries and processed locally.
All the Northern countries prefer locally produced coffee: Evergood Kaffe in Norway, Paulig in Finland, Merrild in Denmark and Iceland, while in Sweden the two most popular brands are Gevalia and Löfberg.
The coffee served in all the Nordic Area face the strong presence of independent coffee shops. Moreover, each country has its local coffee chain.
Espresso house is the largest chain store operating over 190 outlets in Sweden, Norway, Denmark and Finland. The U.S giant Starbucks reached 69 facilities in all Nordic countries in 2018.
Other leading coffee chains are the Norwegian Kaffebrenneriet, Robert's Coffee from Finland, the Icelandic Te & Kaffi, and Joe & The Juice from Denmark.
The recently increasing attention towards organic and environmentally friendly products is very visible in Denmark, where the volume of sales of organic coffee in the retail distribution channel reached almost 300 million kroner in 2017.
The demand for specialty coffee is gradually increasing. This means that new comers will have to diversify their product range if they have to gain shares in the Scandinavian coffee market.
Contact us if you want more information about coffee sales and trends, coffee roasters, market shares and professional coffee machines.