Presse Café is looking for opportunities in Moscow
MOSCOW – Canadian coffee shop chain, Presse Café, is planning to come to the Russian market. Company's top managers are looking for a master franchisee.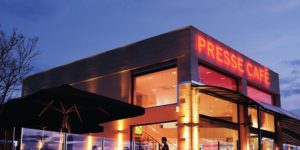 At the moment, Canadians are evaluating the risks and making decisions about presence model which is most likely to be a partnership with master franchisee. According to the company's blog, "CEO and his esteemed advisors are presently in Russia. Their mission is to explore and weight the opportunities for us in Moscow over the next years."
Presse Café is a Canadian chain founded in 1995 in Montreal. Since 2003 the chain has been developing as a franchise. There are about 100 places in the chain at the moment, about 60 of them – in Canada, other countries include in Morocco, Senegal, France, Australia, etc.
The coffee shop market volume in Moscow has increased for 12%, according to 2015 results. Coffee shops are a very popular format among Russians, so this segment did not lose during the crisis.
On the other hand, not very famous brands should consider time for promotion and making people used to them, for consumers need time to get familiar with a new place. Plus, crisis influences the customer spending negatively. The average pay-off period would make up two-three years, and most of it would depend on good location (kommersant.ru).